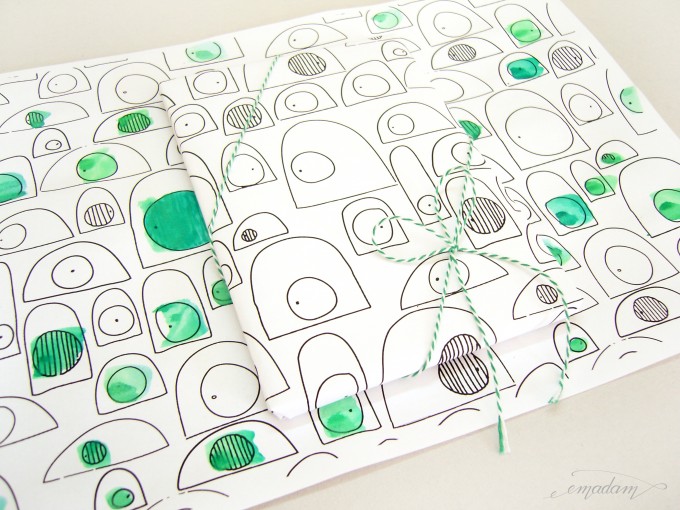 Als letzten Muster-Beitrag zum Thema Architektur habe ich mich kleinen Hobbithöhlen gewidmet und aus diesen in unterschiedlichen Größen und Formen ein Endlosmuster gezeichnet.
The last pattern for the architecture theme is made out of little hobbit holes. With the variations in form and size, they make a cute little seamless pattern.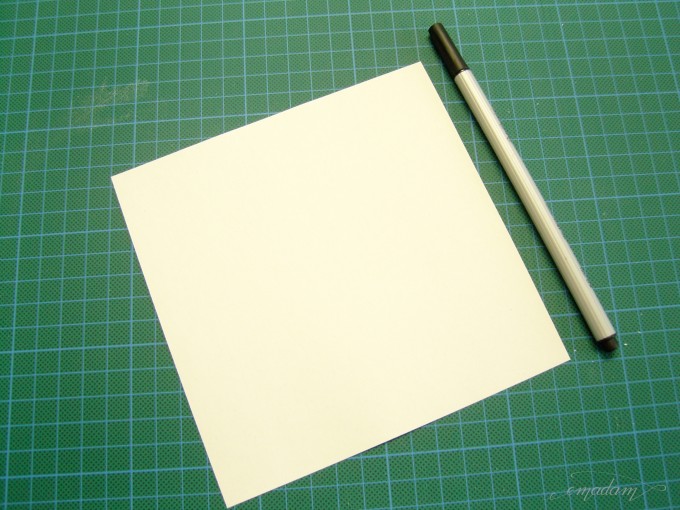 Um das Hobbithöhlenmuster zu erstellen, habe ich diesmal einen traditionellen Prozess gewählt, bei dem durch die Faltung des Papiers das gezeichnete Muster zum Endlosmuster wird. Mein Papier für dieses Muster ist 21 x 21 cm groß.
For making the hobbit hole pattern I have chosen a traditional process. By using some simple folding the pattern will be seamless. My paper for this pattern has the dimension 21 x 21 cm.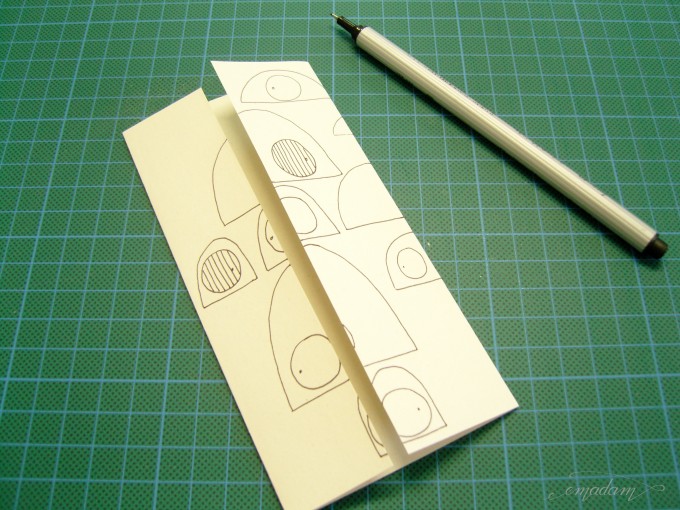 Für die erste Faltung werden zwei der gegenüberliegenden Seiten zur Mitte gefaltet. Ob man dabei tatsächlich die Mitte trifft ist unerheblich. Wichtig ist aber, dass man die Seiten gerade und ohne Lücke aneinanderfaltet. Denn nur dadurch wird das Muster hinterher auch wirklich ein Endlosmuster sein. Dort wo die Papierränder aneinandertreffen, kann man sein Muster schonmal aufzeichnen. Dabei ist darauf zu achten das man zwar über die aneinandergefalteten Ränder zeichnen darf. Aber zu den Rändern oben und unten etwas Abstand hält. Diese werden im nächsten Schritt aneinandergefaltet.
For the first folding you have to fold two opposite sides to the middle. It´s not important that they meet in the exact middle but it´s very important that they connect without a gap or overlapping. That way you make your pattern into a seamless pattern. Now you can draw your pattern over the connected two sides. but make sure to stay away from the other two sides that are not connected.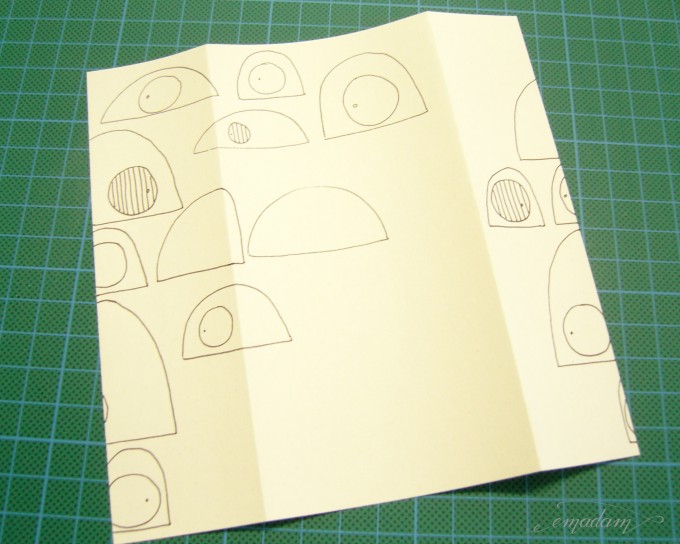 Nach dem Auseinanderfalten sollte das Blatt ungefähr so aussehen. Wer möchte kann in diesem Schritt auch schon in der Mitte das Muster zeichnen.
After opening the folding this is what your paper should look like. If you want to, you can draw the middle part of the paper in this step.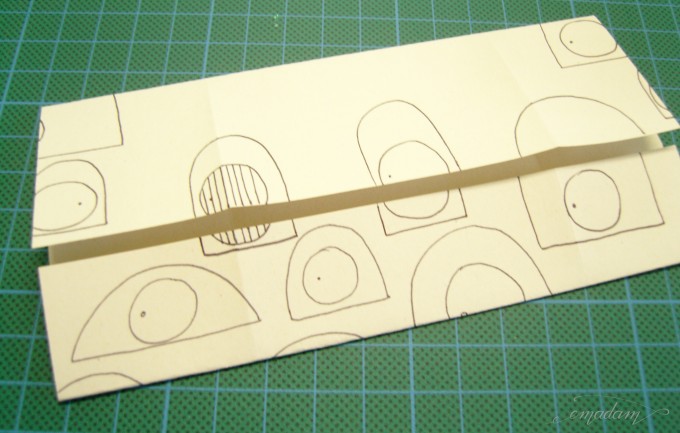 Als nächstes werden die anderen beiden Papierränder aneinandergefaltet und mit weiteren Elementen des Musters befüllt.
The next step is to fold the other to sides to the middle and draw the pattern.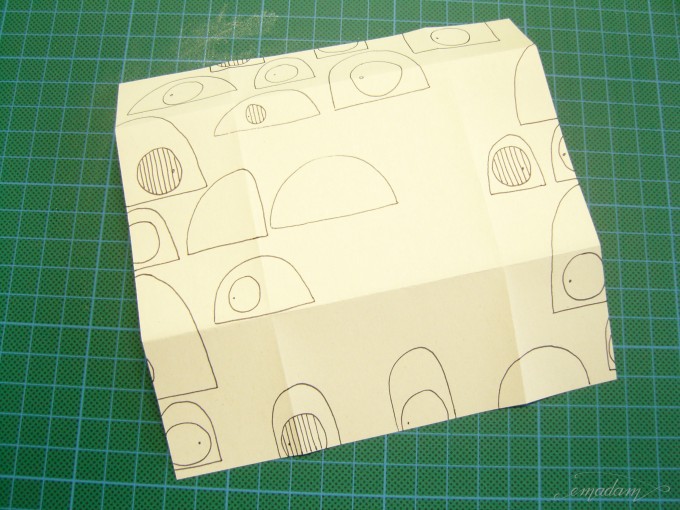 Nach dem erneuten Auseinanderfalten bleibt als letzter Schritt nur noch, die Mitte des Papiers zu füllen, falls das nicht schon vorher gemacht wurde.
After opening the second folding you only have to fill the middle part of the paper with your pattern.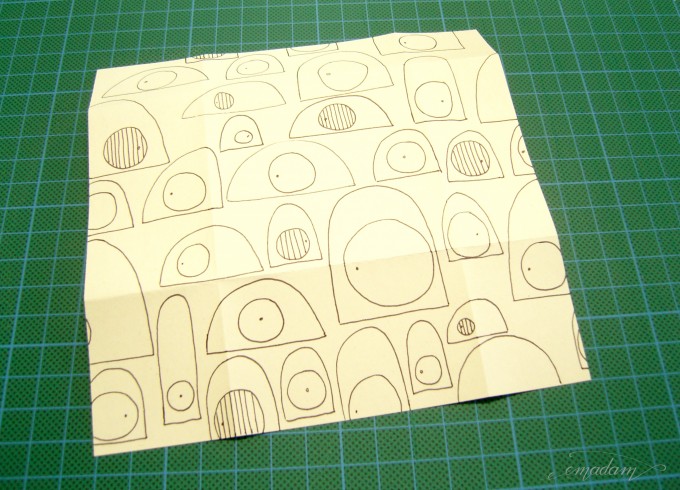 Mein komplettes Hobbithöhlenmuster ist fertig. Beim weiteren Prozess kann zwischen zwei Wegen gewählt werden. Man kann von dem Muster entweder mehrere Kopien machen, diese aneinanderlegen, mit Tesafilm fixieren und somit auf gewünschter Größe als Endlosmuster produzieren. Oder man kann sich das gezeichnete Muster einscannen und per Computer weiterverarbeiten. Ich habe die zweite Methode gewählt, dass Muster per Illustrator als Endlos-Muster definiert und es somit in der gewünschten Größe angelegt.
My hobbit hole pattern is finished.  In the following process you can choose between two options. You can make some copies, tape them together and make the needed seamless pattern. Or you scan your pattern and work with it on the computer. I choose the second option and defined the pattern in Adobe Illustrator.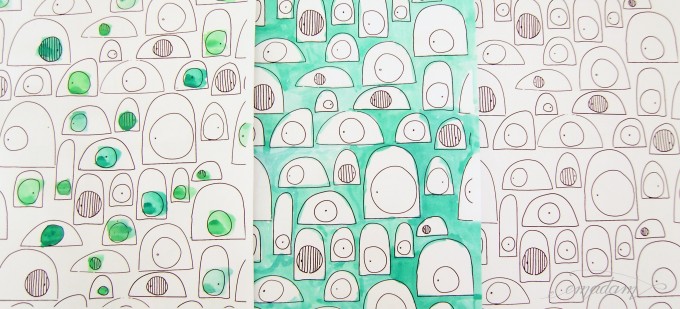 Die Schwarz-Weiß Version habe ich mir mehrmals ausgedruckt und dann analog weiter mit Aquarellfarben bearbeitet. Dadurch lässt sich das Muster nochmals variieren.
I printed the black and white version of the pattern and worked with watercolor on some of the copies. This way you can vary the pattern in a simple way.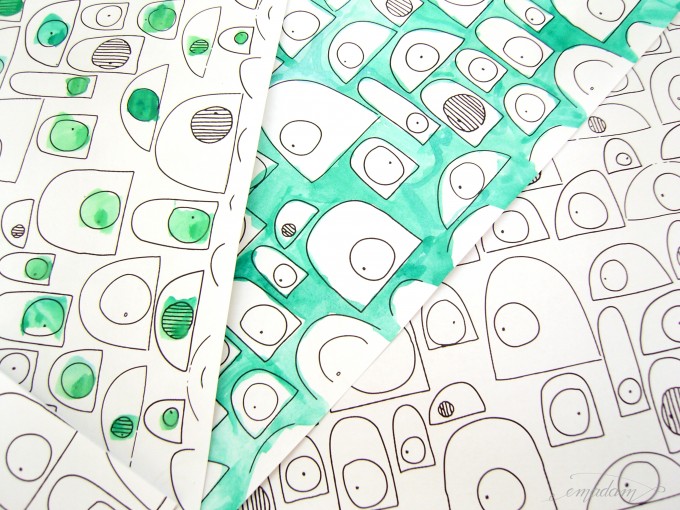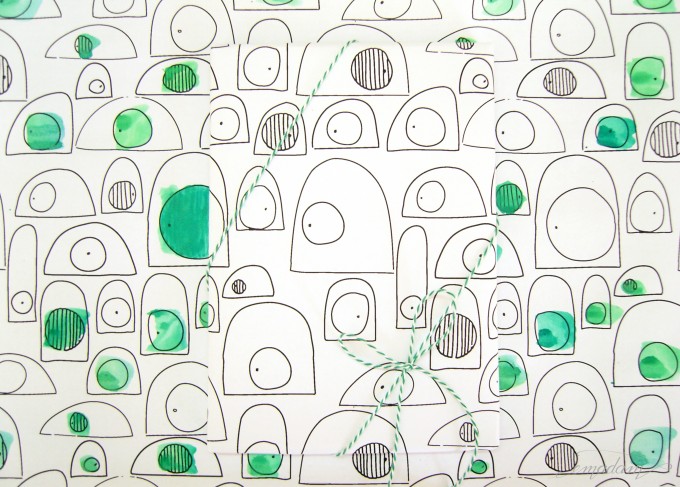 Mit farbigen Türen oder mit farbigem Schleifchen als Farbakztent am Geschenk. Ich finde dem Muster steht beides gut.
With colored doors or a little colorful bow around the gift. I like the pattern both ways.
Liebe Grüße, Love
-Ema-